Purchase or Sale of a Business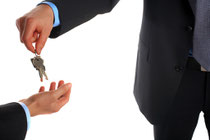 When purchasing a business, due diligence must be exercised prior to the closing. It is important to have a thorough review of all of the company's contracts and leases, employee records and benefits, customer information, supplier agreements and any other documents, as well as a lien search on the acquired assets. I will assist with the assignment of the lease for the location and obtaining the consent of the landlord, or the review, revision and negotiation of a new lease.
When selling a business, I ensure that my client's interests are protected, that the representations and warranties provided in the documents are appropriate, that the transaction proceeds smoothly and quickly, and that any excluded assets are protected.
For either a purchase or sale of a business, I draft the documents that you need for concluding the transaction as well as attend the settlement and issue a closing statement after the transaction has been completed. I am prepared to guide you through buying or selling a business or investment property. and assist with the contracts and forms to successfully buy, sell, and appraise your business including:
Opinion of counsel




Promissory note

Appropriate representations and warranties

Escrow agreement

Non-disclosure agreement

Corporate resolution

Amended Operating Agreements

Any exhibits to the purchase agreement

Letter of Intent

Amended corporate bylaws

Non-compete clauses

Security agreement(s)
"After 25 years as an executive at a Dow 30 company, I decided to purchase my own small business. Dan helped me from beginning to end. He was very capable at handling all aspects of this acquisition. Not only does Dan advise on large complex matters such as regulatory and environmental, he is also extremely detail oriented and thorough on the more intricate details. In addition, Dan is a skilled negotiator and can be relied upon to gain a fair outcome. Although Dan specializes on small businesses, I found Dan to be on par with the most skilled corporate lawyers I have ever dealt with. Dan was truly a key asset for my team and I would recommend him highly."
                                 Ron Schone, Blairstown True Value and Blairstown Agway

"The first time I used Dan, he took care of all the legal work associated with selling my business. Most recently he helped me negotiate a new lease with a landlord who was very difficult to deal with. In both cases, Dan was very thorough and detail oriented. His follow-up ensured that each matter moved ahead. He thinks of things that a business owner like myself wouldn't think of. Because he is upfront and fair, I was totally at ease dealing with him."
Ray Smith, Sir Isaac Bike Shop