Dispute Resolution
Circumstances arise for small businesses and individuals that need legal representation to resolve. Direct negotiation is the most cost effective and easiest way to resolve any dispute. An attorney can advise you about your rights and potential ways to resolve issues, as well as facilitate direct communication. My skillful negotiations look out for your best interests to produce a quick resolution, doing everything possible to avoid litigation. I am experienced in handling a wide range of disputes including: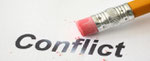 Property disputes

 

Collections

 

Boundary and easement disputes

 

Lease disputes

 

Environmental issues such as lead paint abatement

 

Building inspection issues

 

Tax liens
"My wife and I worked with Daniel on a legal matter pertaining to the acquisition of our home. The original home owner failed to disclose the real condition of the roof during the purchasing process resulting in a complete replacement of the roof a week after closing. Upon hiring, Daniel began immediately with all necessary legal processes in swift and professional manner. After filing a lawsuit, we were able to settle with the other party prior to the actual court date thanks to Daniel's skillful negotiations. We were awarded with a satisfying settlement which we happily accepted. Our experience with Daniel was smooth and successful."
Marcus & Monika