Partnership & Shareholder Agreements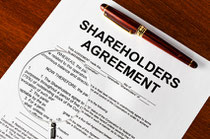 When families or friends go into business together, they frequently do not prepare an agreement relating to the relationships in the business. They assume that everything will work out in the end, and that they will be able to resolve problems as they arise. This often is not the case. When a business with friends or family as co-owners goes bad, the aftermath can be worse than in a normal business relationship. Every business should have a shareholder agreement for Corporations, or an operating agreement for Limited Liability Companies. Those agreements will and should include rights to employment, voting rights, withdrawal rights and buyout clauses, as well as Buy-Sell provisions. Every contingency for governance of the company should be discussed and agreed to in advance so that in the event of a dispute, the business will not need to dissolve but can continue with the surviving Shareholder or Member remaining with the business and the withdrawing Shareholder of Member leaving with the economic issues resolved in a way that is satisfactory to all parties.
I have helped many clients start businesses successfully and get on the right footing from the beginning. If you are starting a new business or if you have an existing business that does not have agreements in place, please call me for a consultation.