Lease & Contract Negotiation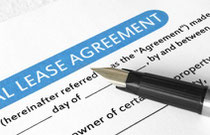 A business lease can be a very complex document, one that the average business owner may not be prepared to assess. Disclosure, understanding, and negotiating of key lease terms protects you when you sign your lease and years later when important business transitions typically take place, and problems tend to arise. It is essential that your interests are represented by an attorney. As an experienced attorney, I provide valuable assistance when drafting and negotiating the terms of a commercial lease including:
Personal guarantees

Assignment and Sublet issues

Use Clauses

Options

Escalation Clauses

Lease termination obligations

Repair obligations

Costs relative to common area maintenance charges

Hazardous substance warranties

Retail, Office and Restaurant Leasing
I negotiate leases for landlords and tenants for retail, office, industrial, or restaurant use. When entering or renegotiating a lease, retaining an experienced leasing attorney is essential. The future and financial health of your business depends on your lease rights including your right to lease renewal and your right to assign or sublet. Insurance, repair and maintenance, common area maintenance charges, use provisions and other important clauses impact your business. Lease clauses can be easily misunderstood and confusing. They can also limit your legal rights in ways you are unaware of at the time of lease execution. What you do not understand may damage your business.
"Dan handled the application for non-profit status, the lease negotiations and the negotiations with the diocese. He was very thorough and professional. He always cleared changes with me before they were made. I felt very comfortable dealing with him."
Mariluz Perez, Daycare Center
"My business partner and I used Dan to help us terminate a lease for our business. Dan took over the negotiations with our then current landlord. He assured us that we had nothing to worry about and that he foresaw a quick resolution to the problem. He was able to get us out of a three year lease as promised. A year later we hired Dan to negotiate a new lease. He really showed his strength in negotiations, and a duel sense of poise and power. We signed a five year lease, mostly in our favor. In both instances we were glad to have Dan on our side."
Scott Kisler, ABS Design Studio
"The first time I used Dan, he took care of all the legal work associated with selling my business. Most recently he helped me negotiate a new lease with a landlord who was very difficult to deal with. In both cases, Dan was very thorough and detail oriented. His follow-up ensured that each matter moved ahead. He thinks of things that a business owner like myself wouldn't think of. Because he is upfront and fair, I was totally at ease dealing with him."
Ray Smith, Sir Isaac Bike Shop