Commercial lease agreements explain which maintenance and repair responsibilities are assigned to the Tenant and which are assigned to the Landlord.   Most frequently Tenants are responsible for maintaining the leased portion of the premises.  Tenants are required to repair and maintain the heating and air conditioning, plumbing and electrical systems. The Landlord will maintain the roof and structural elements of the building. In a "triple net" lease, the entire obligation for repair and maintenance is shifted to the Tenant. Many Tenants are surprised by the repair provisions of their leases, and first become aware of them when a major repair is required.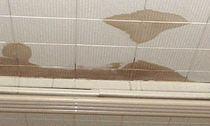 Regardless of which arrangement is spelled out in a lease, there can be an important exception.  This is in the case when health or other safety concerns arise which relate to conditions not under the Tenant's control.   This may include flooding, sewer backups, low water pressure, unsafe access, and roof leaks when the Landlord maintains the roof.   New Jersey courts have imposed on Landlords a "warranty of habitability" which means that the Landlord has a continuing duty to provide the Tenant with a safe and healthy environment. While each situation and lease is different, a Tenant can and should hold a Landlord responsible for making those health and safety repairs.   
    In a restaurant tenancy, for example, there was a frequent sewage backup which the Landlord had knowledge of before entering the lease.  The Tenant's business suffered due to bad odors which drove customers away.  The backup damaged the business irreparably. The Landlord offered the Tenant the remedy of terminating the lease. However, the Tenant had already invested precious capital in getting the restaurant off the ground.  It was a total loss for the Tenant.  In another tenancy, continuing water seepage delayed licensing of a day care facility.  The seepage was under the Landlord's control, and was their responsibility to remedy.
    Be sure you understand the terms of your lease with regard to maintenance and repair assignments between you and your landlord. If a condition exists in the space that you are leasing that is beyond your control, and that is affecting your business, get legal advice on actions you can take to avoid any long term harm to your business.